Tectonic  Jade 100 % New Zealand jade  take the time to view Tectonic Jades New Zealand 100% online gallery.Tectonic Jade creates on site,Tectonic Jade is a small owner operated business situated in Hokitika New Zealand, on the West Coast of New Zealand's South Island. It was created by Rex Scott in 1994 and continues to grow and change.
Rex refers to himself as a 'presenter of New Zealand Jade stone' rather than a carver. He specializes in collecting and working the more unusual or rather rarer varieties of New Zealand's Jade ( pounamu ) so that the real mystery of the stone can be exposed and appreciated. Because of Rex's passion for the rare and unusual, all of the artwork exhibited in this online gallery are unique one-off pieces which cannot be duplicated or requested in different sizes of colors of Jade,
New Zealand Jade the source of inspiration for Rex's work is nature and its fundamentals principles,as nature is not something we know but something which we continually learn. Rex has chosen New Zealand Jade as his medium because he believes that it is more than the external shape and more than just a piece of art. He believes that Jade is internal phenomenon, that it presents a truth for all those to see. It is the by product of one of the
earth;s great movements, alleviating stress and  pressure from deep within. The Jade is the footprint, the evidence left behind for us to decipher.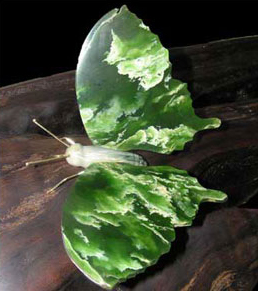 We hope that you enjoy exploring this small exhibition of New Zealand's natural jewel.

We keep high resolution images of every piece, so if you need a closer look, ask. All sizes are approximate.
If you wish to purchase any of the artworks we look forward to hearing from you.
All words And Images on this site are copyright Tectonic Jade and may not be used without  permission.All prices are in US dollars.
Site Designed by Tectonic Jade 2010
Be Well may good energy be set upon you,